The Band (2)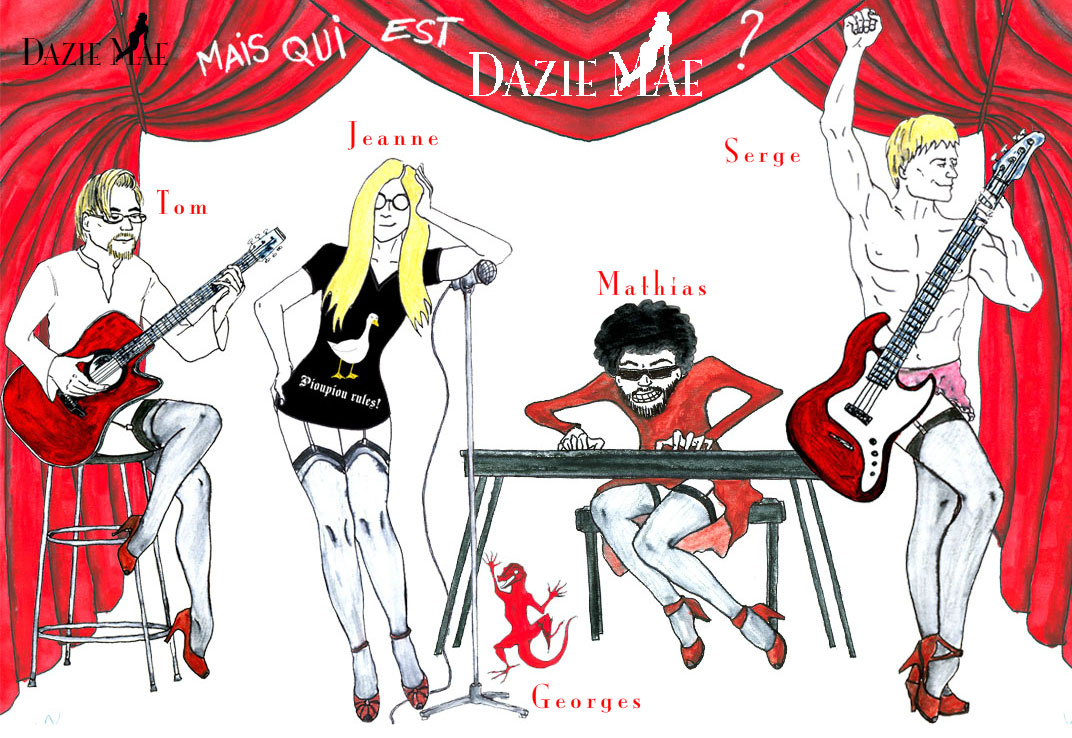 Click on a musician's name... / Cliquez sur le nom d'un musicien
Serge Dejazz
After being explelled from England for setting fire to a pub where some band were playing live using a "dreaded" drum machine, he writes his first album with around 54 post punk songs, all written in 4 days.
Après avoir été expulsé d'Angleterre pour avoir mis le feu à un bar où se produisait un type avec une boîte à rythmes, il compose un premier album autour de 54 chansonnettes postpunk, écrites en quatre jours.
Hairy Mat
Mat's childhood took place in a little African village in south Botswana, where he was initiated to sacred dancings and musical habits of Congalaabawanaa. He's never been quite the same ever since.
Mathias a vécu son enfance dans un village au sud du Botswana où il a été initié, malgré lui, à la danse sacrée du suricate et au rite musical du Congalaabawanaa. Il n'est plus tout à fait le même depuis.
Miss Jane
After 5 years as leader of the famous « Flying Cheddars Lovers », a kind of « trash ballroom dancing band" specialized in covering Gregorian sacred songs, Jeanne has now decided to stop the booze!
Après 5 années passées comme leadeuse des Flying Cheddars Lovers, un groupe de trash musette spécialisé dans les reprises de chants grégoriens, Jeanne a décidé d'arrêter le whisky.
Tom Lameche
Tom met one day Pat Metheny after a gig in Nancy (east of France). He immediatly kicked the guy's face to steal his guitar. In fact he never leaves it alone, even taking it under the shower, which explain the weird sounds...
Tom a croisé un jour Pat Metheny à la sortie d'un concert à Nancy : il lui a immédiatement cassé la gueule pour lui voler sa guitare. Il ne s'en sépare jamais, même sous la douche, ce qui explique le son très particulier de ses solos.
Georges
Georges is Jeanne's imaginary friend. He does the backing vocals and tap dancing (says she).
Georges est l'ami imaginaire de Jeanne. Il est responsable des back-vocals et du numéro de claquette (dit-elle).
A short story…
Jeanne, Mathias, Serge and Tom met during a concert of the Hazardous Purple Oysters Band in Vesoul (East of France). They immediately bonded in a shared interest for this Scottish psyche folk-blues band from the sixties, specialized in
Mothers of Oysters
' covers (and also because they were the only four people attending the concert); they decided to start a project around traditional Caucasian folk songs. After 6 months of rehearsal in the parking of the shopping mall at Broutigny-sur-Orge, they realized that the gadulka and moldavian penny whistle solos were beginning to affect their inner ear. The band reached a low point.
It was then that Serge, back from a team building seminar in Yorkshire, told about his amazing discovery: stuck inside an old dusty cupboard of an Bed & Breakfast, he fell upon the diary of a young woman called 'Dazie Mae'.
Dazie Mae appears to be an English singer from the forties, whose career was as fugitive as the breakfast of the USS Utah sailors in Pearl Harbour on December 7th, 1941. Engaged in an extra-conjugal relationship with Jim, a neurasthenic boogie-woogie drummer, Dazie Mae tells in her diary about her dreams and disillusions as a liberated woman.
Enthusiastically, the band decides to put the life of the young woman into music –- 11 jazzy songs with a retro atmosphere:
"Velvet Dress & Stockings"
, released on the label
Can't Be Serious Records
.
Since then, the lives of Jeanne, Mathias, Serge and Tom have been filled with love, fame and prosperity.
Une courte histoire...
Jeanne, Mathias, Serge et Tom se sont rencontrés à l'occasion d'un concert des Hazardous Purple Oysters Band à la salle polyvalente de Vesoul. Réunis par leur goût commun pour ce groupe de folk-blues psyché écossais des années soixante, spécialisé dans les reprises des
Mother of Oysters
(et sans doute aussi par le fait qu'ils étaient les quatre seuls spectateurs dans la salle), ils décident immédiatement de monter un projet de reprises de chants traditionnels du Caucase.
Après 6 mois de répétition dans le parking du centre commercial de Broutigny-sur-Orge, ils se rendent compte que les solos de gadoulka et de flûtiau moldave commencent à attaquer leur oreille interne. Désemparé, le groupe est au plus mal.
C'est alors que Serge, de retour d'un séminaire de team building dans le Yorkshire, témoigne d'une découverte incroyable : coincé au fond de la vieille armoire poussiéreuse d'un Bed & Breafkast, il est tombé sur le journal intime d'une jeune femme appelée Dazie Mae.
Il comprend qu'il s'agit d'une chanteuse anglaise des années quarante, dont la carrière fut aussi éphémère que le petit déjeuner des marins de l'USS Utah à Pearl Harbour le 7 décembre 1941. Engagée dans une relation extraconjugale avec un certain Jim, un batteur de boogie-woogie neurasthénique, Dazie Mae raconte dans son journal ses rêves et ses désillusions de femme libérée.
Dans un élan enthousiaste, le groupe décide de mettre en musique la vie de la jeune femme en onze chansons jazzy à l'ambiance rétro : "Velvet Dress & Stockings", signé sur le label Can't Be Serious Records.

Depuis, les vies de Jeanne, Mathias, Serge et Tom sont baignées d'amour, de gloire et de prospérité.